2023 Sunnyhill Service Auction FAQ's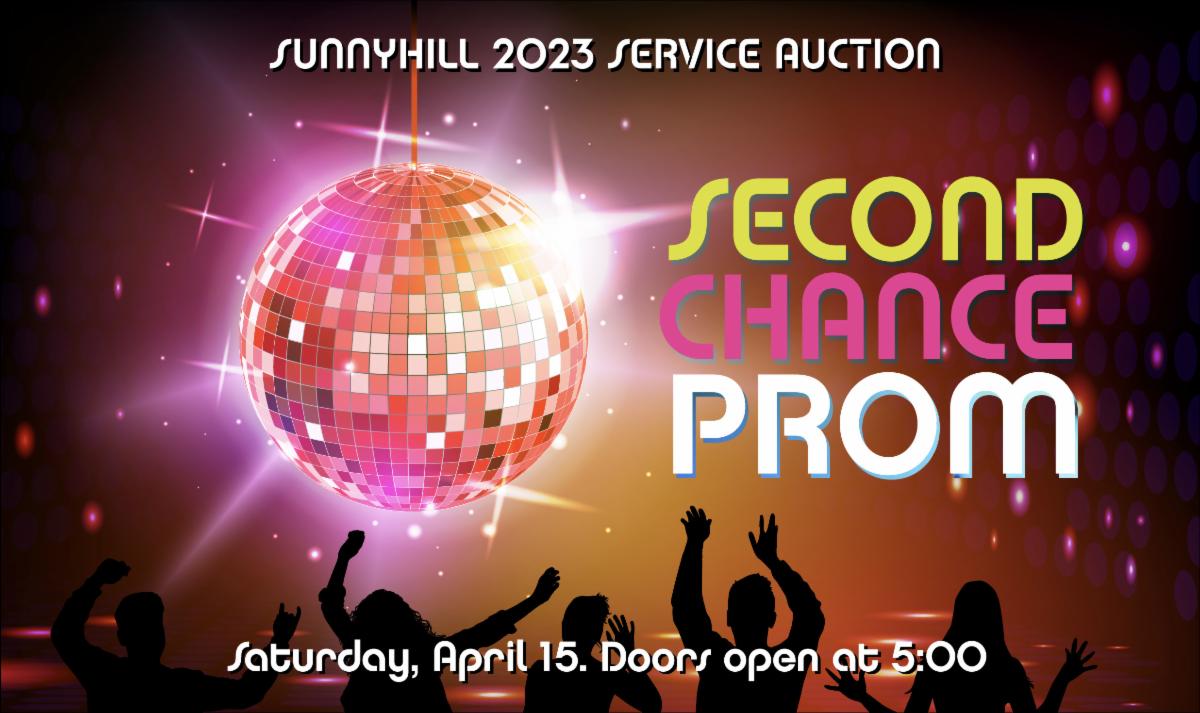 2023 Sunnyhill Service Auction FAQ's
Theme: Second Chance Prom
Saturday, April 15, 2023 –  5:00 Doors open
There will be raffles, silent auction, party sign-ups, a robust live auction, and dinner!  It's our biggest party of the year!
Yes, I want to come!  How do I RSVP?
RSVP here: https://sunnyhill.breezechms.com/form/b097b7
Payment is due at the time of registration. Register early and save!
Ticket prices:
3/1-3/31 – $20/adult
4/1-4/14 – $30/adult
4/15 (day of the auction) – $40/adult
Kids are free!
What Should I Donate?
We hope you will donate an item (or 2 or 3!) to the auction!  Not sure of what to donate?  Talk to the auction volunteers at the table in Fellowship Hall after Sunday services.  Here are a few ideas to get you started:
EVENTS: Host a nature hike or other outdoor activity, teach a class – cooking, language, printmaking, creative writing, any skill that you have can be shared!  Host a dinner with a friend or ask us to pair you with someone to co-host.   Afternoon tea or an excursion to a local attraction.  A game night, home movie night, beer or wine tasting.  The possibilities are endless.
SERVICES: Babysitting, power washing, handyman (woman), tax prep, resume writing, car detailing, if you can do it, we can sell it!!
PHYSICAL ITEMS: This is not the event for your rummage sale cast-offs – save those for the yard sale!  We need artwork, tools, small appliances, jewelry, accessories, that are clean and new or like-new condition.  Gift cards, tickets to local venues.  If in doubt, talk with the auction team.
BASKETS: We love baskets, either from individuals or from your Sharing Circle, Book Club, Choir, etc.  Creativity is encouraged. Does your group's purpose suggest a theme?  Here are a few ideas: Gourmet Cooking, Herbs and Spices, Chocolate, Wine and Cheese, Party Theme — Brunch, BBQ, Date Night, Family Game Night, Pool or Beach Basket, Road Trip, Kids' Art Basket, Sports, Hiking, Gardening, Birding, Meditation, Tea or Coffee Lovers, Fitness/Spa
How Do I Donate:  We prefer that you enter your own donations in the auction software:  www.togetherauction.com/sunnyhill   Watch the Beat for instructions.  Or contact the auction team for assistance.
How can I get involved/volunteer?
See the auction team after Sunday service or email Nanette at nanoo52@gmail.com.  We need help with food prep and service, with soliciting donations, for auction set-up and clean-up, and also help on auction night.
Please make sure that donations are entered into the auction software no later than March 26 – Please don't make us beg this year! 
Dates to drop off donated physical items to the church (this includes gift cards and any items for silent auction or raffle baskets):
Sunday, March 26*, after service
Monday, March 27*, 6:30 – 8:00 PM
Thursday, March 30*, 6:30 – 8:00 PM (this is the LAST opportunity to drop off ANY physical items)
*Items may also be dropped off at Sunnyhill during daytime staff office hours prior to March 30.
Questions? Email Nanette at nanoo52@gmail.com.