Sunnyhill Live!
Upcoming Events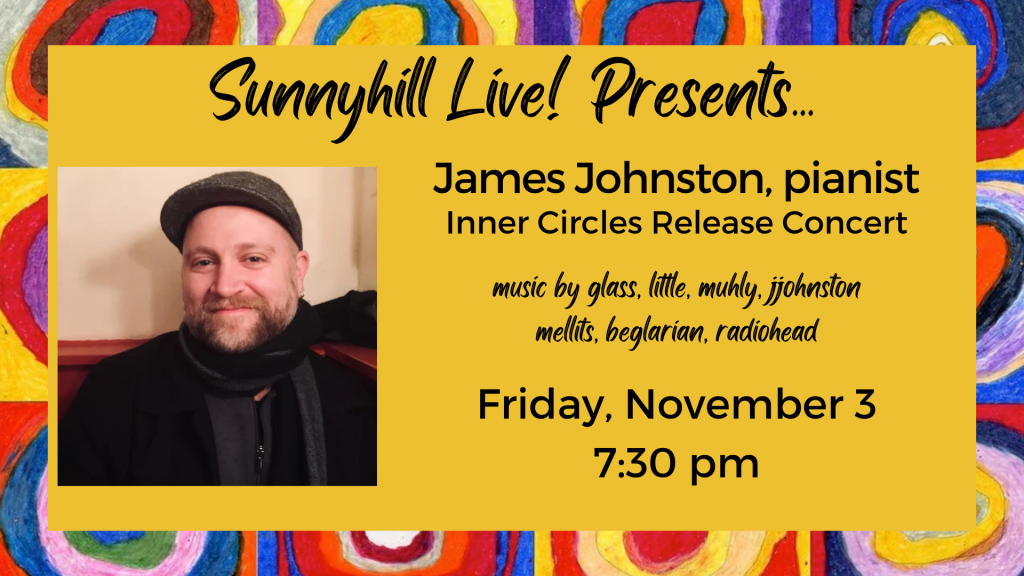 James Johnston: Inner Circles Release Concert
Friday, November 3rd, 7:30pm
Called "a sensitive performer" by the New York Times and "especially impressive" by the Pittsburgh Post-Gazette, James Johnston is an American musician who enjoys an active and varied career as a pianist, keyboardist, teacher, composer, and arranger. He recorded "Inner Circles" in 2017 and is so happy to have it finally released! In this special release concert he'll share pieces from the record along with insights and explanations for their inclusion. Learn more about James Johnston at www.jamesjohnstonkeys.com.
Tickets HERE!
$15 Adult/ $10 Student (plus $1 transaction fee) online presale;
$20 Adult/ $15 Student at the door (credit card processing fees apply).
Please email Mary Pratt (musicdirector@sunnyhill.org) if you'd like to be added to the Sunnyhill Live! email list; you'll be the first to be notified of upcoming events and ticket availability!
About Sunnyhill Live!
Sunnyhill Live! is our arts series that features the best in live music, film and theater in a casual, comfortable, and intimate setting.
Mission Statement
The goal of Sunnyhill Live! is the enhancement of congregational life at the Unitarian Universalist Church of the South Hills through the presentation of diverse, high-quality cultural arts performances.
Objectives
To encourage fellowship for church members and community by providing a non-smoking, family-friendly cultural arts environment;
To enhance the visibility and presence of the church in the community;
To create a financially successful operation whose proceeds will be used to support the mission of the church.