Sunnyhill Live!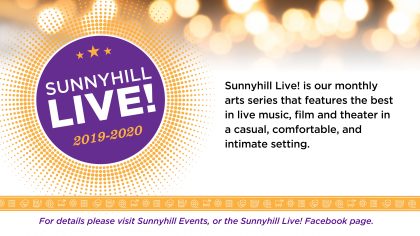 Sunnyhill Live! is our monthly arts series that features the best in live music, film and theater in a casual, comfortable, and intimate setting. For details about upcoming performances and more information, please visit Sunnyhill Events, or the Sunnyhill Live! Facebook page.
Mission Statement
The goal of Sunnyhill Live! is the enhancement of congregational life at the Unitarian Universalist Church of the South Hills through the presentation of diverse, high quality cultural arts performances.
Objectives
To encourage fellowship for church members and community by providing a non-smoking, family-friendly cultural arts environment;
To enhance the visibility and presence of the church in the community;
To create a financially successful operation whose proceeds will be used to support the mission of the church.
Volunteers
If you are interested in volunteering or have a contact for a potential artist(s), please contact sunnyhillpresents@sunnyhill.org. We welcome any member or friend, with a passion for the arts, who would be interested in talent acquisition, promotions, and event production. Tickets for upcoming events are managed through Brown Paper Tickets.
Committee Members
John Armstrong
Harold Behar
Janie Elliott
Will Page
Megan Stanis
Jay Thornton
Sunnyhill Live! 2022-2023 Season
Rose n' Thorne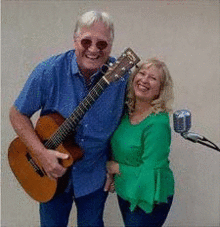 With beautiful harmony, genuine honesty, clever soliloquy, and gifted musical talents, ROSE n' THORNE are in love with music, performance, and… with each other!
Rose n' Thorne are husband and wife entertainers who teamed up 20 years ago in upstate New York. She was the lead singer of a popular local band and a winner of several vocal contests with radio stations, presenting her with the opportunity to open concerts for artists like Shania Twain and Benny Mardones.
Deciding to head to California to pursue a singing career, she went to a songwriter's circle in Syracuse, searching for original songs to record. That is where she met Thorne, and after hearing his original songs, she approached him with the idea of co-writing or recording some of his songs. She hadn't known that he had had a long career of performing and recording himself.
Thorne had toured all across the county, performing at colleges and clubs and opening for shows for artists like Melissa Manchester, Livingston Taylor, Al Jarreau, and Eric Burden. He also has two Cds released and a few local singles hits.
The two moved to Nashville in 2001 on the promise of getting songs published and recorded. When that never came to fruition, they moved to Lakeland, Florida to be near family, took on "real" jobs, and left music behind for 15 years.
In 2016, they went to an open mic night, played four songs, and were asked to play immediately the following weekend. That was the opening of the floodgates, and now they perform from The Villages to Ft. Myers, from Bradenton to Winter Haven.
The combination of one of the finest female voices you;l ever hear, singing Rondstadt, Mitchell, and Jones (Nora and Rickie Lee) and playing percussion, along with a great male singer doing Beatles, Young, Taylor, and Clapton with intricate and expressive guitar, piano, and harmonica work. All make for a great evening.
Oh yeah, they're a bit crazy as well, so expect a good laugh and an improvisational attempt at song requests. Great music and fun to be had by all!
Tickets purchased online are $15 for adults/$10 students. Tickets at the door are $20 for adults/$10 students.
Doors open at 7:30 PM, show starts at 8:00 PM. Refreshments will be sold before the show and during intermission.
Purchase tickets.
Sunnyhill Live! 2018-2019 Season
September 10, 2018. Gaelynn Lea- Album Release Tour
November 16, 2018. Diamante Trio with Lili Abreu
December 1, 2018. Christopher Mark Jones and the Roots Ensemble
January 22, 2019. Clarion Quartet
March 11, 2019. Pittsburgh Chamber Players
March 30, 2019. Pittsburgh Singer/Songwriter Collaboration- Christopher Mark Jones, Brad Yoder, Heather  Kropf, and Ben Shannon
May 4, 2019. Buffalo Run Band
Buffalo Run was the name of the valley where Rob Smith settled in Garrett County Maryland in 1975, and became the title of the Smith & Roberts album released in 1980 featuring Smith and Keith Roberts performing their original material. A second album of Smith & Roberts originals, "By Accident," was released in 2005 in a CD format. The first version of the Buffalo Run Band was formed in the mid-1980s and a second bluegrass version followed in the 1990s, Smith said. Smith retired from his building inspector job with Garrett County government in 2014, and has been making music since.
Buffalo Run members are pictured from left: Mike Hall, Rob Smith, Keith Roberts, Bob Shank, and Hank Schwartz.
2017-18 Season
October 6, 2017. Spuyten Duyvil. "Infused with blues, smoked in folk," Spuyten Duyvil brings acclaimed American roots music and infectious energy to Mt. Lebanon!
November 18, 2017. Art+Jazz. Featuring a wonderful arts mashup. Presenting the gallery show for Bob Willis Photography,
December 16, 2017. The Jazz Conspiracy- Pittsburgh's most entertaining and authentic big band. The Jazz Conspiracy is a 16-piece ensemble, with vocalist, dedicated to capturing the sound and spirit of the American big
January 19, 2018. An Evening with Chaplin- Join musicians, Tom Roberts & Mary Beth Malak, as they provide an original and authentic musical performance as accompaniment to some of Charlie Chaplin's most enduring silent films.
March 2-4, 2018.Love Letters– A.R. Gurney's Love Letters is an enduring romance about first loves and second chances. Come see Heidi Smith and Cotter Smith (currently appearing in the Nexflix production Mindhunter) bring this exquisite production to the Sunnyhill Live! stage.