Pittsburgh Pride
June 3, Lineup Begins at 10 am
Join Your UU Friends at Pride on June 3!
Update from 5/31/2023:
The Unitarian Universalists of Greater Pittsburgh will be marching in the Pride Parade this coming Saturday.
There are NO assigned spaces, Just Zones. We are in Zone 3 – Liberty Ave from 13th street to 14th street. We will not know the line up order until we arrive onsite and are placed in order by the parade volunteers on Saturday morning. Mary Redford and her family will be onsite early to ensure we have our spot!
I suggest folks go to Liberty Ave and 14th street and walk southwest towards downtown until you see the UUs of Greater Pittsburgh Banner as well as a red wagon with pride decorations and some balloons, as (despite the instructions I was given) 13th street does not actually connect with Liberty Ave.
The March/Parade will begin at noon. Please try and be with our group by 11:45am.
Mary Redford can be reached on her cell phone at: 978-430-6611 if you are lost or can't find us.
Looking forward to seeing everyone's PRIDE attire!
_________________________________________________________________________________________________
Updates from 5/24/23:
— The parade kicks off from 11th St. and Liberty Avenue downtown (at the Greyhound Bus station) at noon. The lineup will be between 10 a.m. and noon and will run from 11th and Liberty back to Liberty and 16th St. in the Strip. Our lineup slot will be known next week after all registrations are complete, so we will update you on our gathering spot, timing to be in line, and other critical details. Thanks for your patience.
— From 11th and Liberty, the parade will proceed down Liberty to Seventh Street, turn right onto Seventh Street (passing the Benedum Center), and continue across the Andy Warhol Bridge. We then continue on Sandusky Street, turn left onto South Commons, and proceed to Allegheny Commons Park West to the Pittsburgh Pride Festival. This should be a fun, festive event, and youth are especially encouraged to attend!!!
— PLEASE remember to bring water, snacks, sunscreen, sunglasses, possibly a hat, and definitely comfy shoes! You are welcome to bring your church banner or other signs, etc., but you don't want to weigh yourself down with too much stuff:).
— Mary Redford from the Cluster Board is our point person, and Joe Shaughnessy provided early assistance. MANY THANKS to both of them. Contact Mary at mary.redford@comcast.net to get on our e-mail list for final lineup spots, timing, and other info. And continue to watch this site for details as well. Share the information with everyone at your church and elsewhere who might be interested.
— Plan to attend now, and get ready with your creative signs and get-ups. Let's show that loving, welcoming UU spirit! We are stronger together!
Lebo Juneteenth Celebration
June 16 5pm-9pm
Mt Lebanon Main Park
It's time to celebrate again! Join your neighbors in Mt Lebanon as we celebrate Juneteenth Freedom Day. We will have food, balloon artistry, face painting, games, and lots of fun.
More information: https://fb.me/e/8Km5oBRLo
Lebo Pride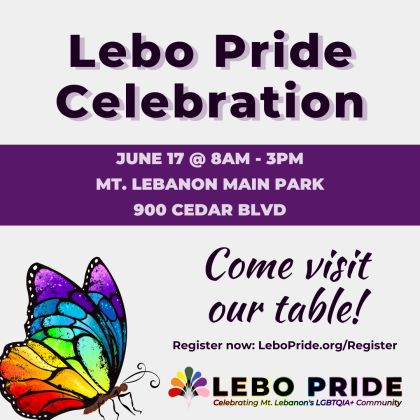 June 17 8am-3pm
Mt. Lebanon Main Park
Celebration. Education. Visibility.
Join us in the Commissioner's Lot on Saturday, June 17, from 8:00 AM to 3:00 PM for a party for all ages! We'll feature music, art, food, interactive activities, and more. This year's theme is "transition" based on the relatable quote, "Just when the caterpillar thought the world was over, it became a beautiful butterfly."
More information: https://www.sunnyhill.org/lebo-pride/
General Assembly
General Assembly is the annual gathering of Unitarian Universalists, where we conduct the business of the Association, explore the theological underpinnings of our faith, and lean fully into our mission and principles. Please join us Wednesday, June 21 through Sunday, June 25, 2023, right here in Pittsburgh, Pennsylvania, and/or online for this 5-day immersive experience where we participate in inspirational worship services and informative workshops, reconvene with friends and colleagues and explore our bustling exhibit hall. GA is an unforgettable experience for the thousands of UUs who attend. Meet us online or in Pittsburgh and you'll leave with renewed energy and innovative ideas to share with your congregation and community at large!
Register online today.
Several Events are Free and Open to the Public, including Sunday Morning Worship!
See the schedule here: https://www.uua.org/ga/program/schedule
More information: https://www.uua.org/ga/program/schedule