Date/Time
Date(s) - Mar 08, 2017
7:00 pm - 9:00 pm
Categories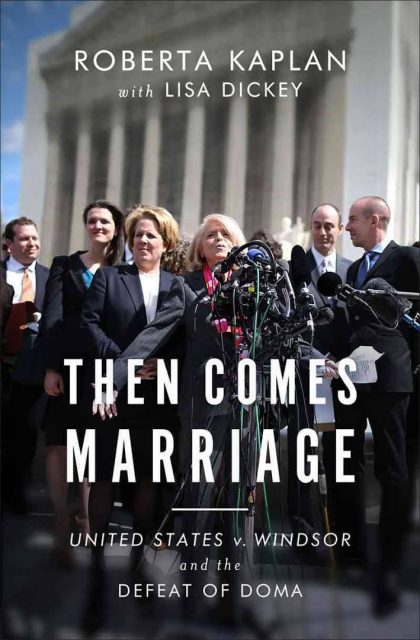 Come discuss Roberta Kaplan's 2015 book, Then Comes Marriage, which tells the story of the defeat of the Defense of Marriage Act (DOMA) before the Supreme Court. This is the account of one of our nation's most significant civil rights victories. The book was named a Ms. Magazine Top 10 Feminist Book of 2015 and a National Law Journal Top 10 Supreme Court Aficionado Book of 2015. Kaplan shares behind-the-scenes highs and lows, and provides insights into her historic argument before the Supreme Court. The book incorporates the story of Edie Windsor and Thea Spyer, who had been together as a couple, for more than forty years—enduring society's homophobia as well as Spyer's near total paralysis from multiple sclerosis. Then Comes Marriage tells this quintessentially American story with honesty, humor, and heart. It is the momentous yet intimate account of a thrilling victory for equality under the law for all Americans, gay or straight.
The discussion will be held Wed., March 8, at 7 p.m. in the private room of Panera Bread in the Galleria. Multiple copies of the book are available through the Carnegie Library system. Questions, contact Jean Furlan.
The discussion of Then Comes Marriage is a step in the renewal process of Sunnyhill's Welcoming Congregation status.