Date/Time
Date(s) - Nov 16, 2018
7:30 pm - 9:30 pm
Categories
The Diamante Trio formed in 2016 to bring pop and classical music of South American composers to diverse audiences. The Trio plays tangos, sambas, laments, and choros, with the violin, clarinet, and cello at times imitating a Brazilian street band. In other pieces, they act as a classical string trio with the clarinet taking the part of viola. The music represents composers from Argentina, Spain, Brazil, Peru, Mexico, and America.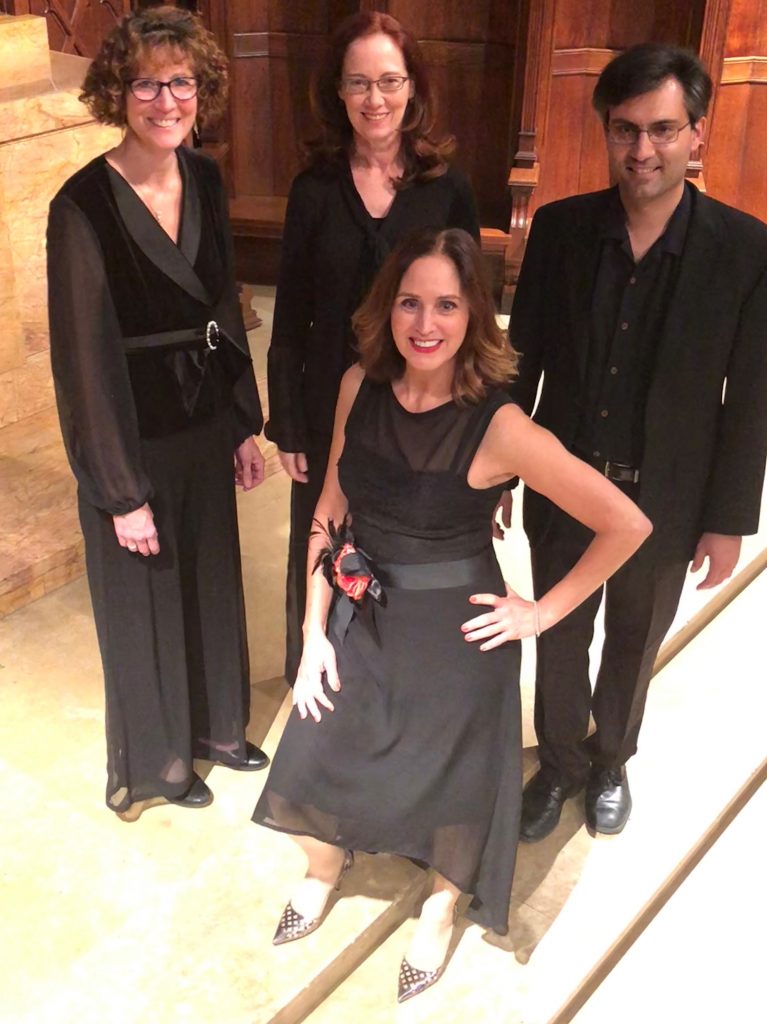 The trio is joined by Brazilian soprano, Lilly Abreu, one of Brazil's greatest cultural assets. Singing in Spanish, Portuguese, and English, Ms. Abreu has appeared in recitals and as a soloist with orchestras and chamber ensembles in France, Spain, Portugal, Argentina, the United States, and Brazil. A winner of the Pittsburgh Concert Society and a guest on the Chamber Music Concert Series, she sang the Bachianas Brasileiras #5 with cellists of the Pittsburgh Symphony Orchestra. Ms. Abreu sang Bach's Wedding Cantata with the Culver City Chamber Orchestra in Hollywood and Culver City, CA, and appeared as a guest soloist in the Strings in the Mountains Festival in Steamboat Springs, CO. Ms. Abreu has been on the roster of the Pittsburgh Opera for many years, singing in operas such as Carmen and Turandot. In addition to her classical engagements, Ms. Abreu is also an accomplished popular music artist, performing regularly some of the greatest tunes of the Brazilian repertoire, as well as Broadway and Jazz standards.
Devin Arrington, violinist and composer, acted as assistant concertmaster of the Delhi Symphony at age 18 while instructing violin at the Woodstock School in India. He has performed in Russia and India and at Carnegie Hall in New York City. Mr. Arrington maintains a large teaching studio in Pittsburgh. He was chosen as a Shinichi Suzuki Teacher Training Scholar in 2010.
Mary Beth Malek has held the Principal Clarinet chair in both the Pittsburgh Opera and Pittsburgh Ballet orchestras since 1990. In addition, she performs with Pittsburgh Festival Opera, Civic Light Opera, Wheeling Symphony, Canton Symphony, and as sub with the Pittsburgh Symphony. She is a founding member of the Zaffiro Trio. Ms. Malek is on the faculties of the University of Pittsburgh and Chatham University and has a large private studio.
Cellist Paula Tuttle has traveled and performed throughout the US, Europe and the Far East as an orchestral musician, soloist, and chamber music artist. She played as Principal Cello for the internationally renowned Spoleto Festival in Charleston, SC, and the Festival of the Two Worlds in Spoleto, Italy. A member of the Pittsburgh Opera and Ballet Orchestras, performing as assistant principal as well as principal cello, she also plays solo cello with the PBS My Music Orchestra, and has recorded and performed with over 100 rock, soul, and pop musicians. Ms. Tuttle teaches at the University of Pittsburgh and Carnegie Mellon University and is also a founding member of the Zaffiro Trio.
The performance takes place in the 220-seat sanctuary of the Unitarian Universalist Church of the South Hills ("Sunnyhill") in Mt. Lebanon, PA. Refreshments will be available for purchase before the show and during intermission. The building and restrooms are wheelchair accessible. Service dogs welcome.
Advance Tickets Through Brown Paper Tickets (click Buy Tickets)
$15 Adult
$5 Students K-12
A per ticket service fee is added to each ticket.

At the Door
$20 Adult
$10 Students K-12
A per ticket service fee is added for credit card sales.
Please read our Credit Card Policy.