Special Premiere of Walk with Me
Special Premier of Walk With Me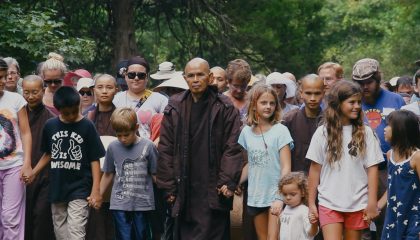 Sunnyhill's Meditation Groups just requested to bring Walk With Me – A Journey Into Mindfulness with Thich Nhat Hanh to Pittsburgh on September 12 at 7:30 p.m. at The Galleria Theater in Mt. Lebanon. Let us learn together the ways of mindfulness and how Thich Nhat Hanh's teachings of healing and compassion can change our world. This event showing is helping to realize Thich Nhat Hanh's vision of transforming movie theaters into meditation halls.
Please help us to secure our screening of this powerful documentary! We need to get 75 people to reserve tickets, or the screening won't happen. Please reserve your tickets now to make this wonderful screening a reality! Click here to reserve your tickets.
Filmed over three years, 'Walk With Me' takes us deep inside the world-famous monastery of Zen Buddhist master Thich Nhat Hanh, and captures the life of a monastic community who have given up all their possessions for one common purpose – to practice the art of mindfulness. Thay, as his students refer to him, shares some of the most insightful and vulnerable moments of his early monkhood where he describes in wondrous detail his feelings about being true to himself and committing to his path. Oscar-winning actor, Benedict Cumberbatch, narrates.
Experiencing this film in the large-screen format of a cinema is a meditation within itself. Since this is a private screening you can ONLY get your tickets online and in advance (and not at the theater). Let's turn this event, and the Galleria Theater into a meditation hall! NOTE: You will need a credit card to reserve your seat, but your card will not be charged until, and unless, we achieve our 75-ticket threshold. Our goal is to fill the theater to capacity. Please Join Us!
Click here to see the trailer.