Date/Time
Date(s) - Mar 30, 2019
7:30 pm - 9:30 pm
Categories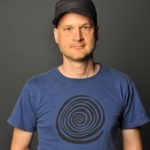 Sunnyhill Live! has teamed up with four of Pittsburgh's favorite singer-songwriters–Heather Kropf, Christopher Mark Jones, Ben Shannon, and Brad Yoder–for an evening of musical collaboration. Each will be featured in a short set supported by the other musicians. The audience will have many opportunities to chat with the musicians, too.
Heather Kropf (heatherkropf.com) has been a Pittsburgh-based musician for over two decades, earning acclaim for her lush, literate blend of Americana and jazz-influenced pop that captures the complexity of modern life and romance. Her vocals are reminiscent of early influences Suzanne Vega and Joni Mitchell. Kropf recently collaborated in Nashville with producer/multi-instrumentalist Lex Price. Together, they created her fifth release, Lights, a starkly beautiful album of heart-wrenching pop songs, listed as a best album of 2017 by Pittsburgh's TribLIVE, and a finalist for Top Entertainment + Media Projects of the Year (2018) by the Creative Industries Network.
In 2017 award-winning Americana songwriter Christopher Mark Jones (christophermarkjones.com) released Incantations, his fifth album, and the book Smoke on the Meadow: Selected Lyrics 1977-2017. He has been playing and recording since his 1978 Transatlantic Records (UK) release No More Range to Roam. Jones tours regionally from his base in Pittsburgh, and plays often with his band, the Roots Ensemble, which performed at Sunnyhill Live! (Mt. Lebanon, PA) in December 2018.
Ben Shannon (benshannonmusic.com) was born in Nashville, TN, the second child of two social justice activist parents. He grew up in Pittsburgh to become a writer, a sponsored skateboarder, and a student of contemporary American poetry. Shannon is a co-founder of BurghSong, a songwriter listening room series featuring a local and a national pairing of writers. He is an award-winning songwriter with two independent and self-funded releases; winner of the Rocky Mountain Folks Fest Songwriter Showcase 2015; and finalist in the 2017 Kerrville Folk Festival New Song Showcase.
Brad Yoder (bradyoder.com) is probably the first name mentioned when Pittsburgh folk music is the subject. With a long career performing, writing, recording, and hosting touring artists in his Hospitality House concert series, Yoder has made an indelible mark on the Pittsburgh music scene. AcousticLive called his 2010 album, Excellent Trouble, a heavyweight album from a major talent. Yoder has a new album scheduled for release in 2020.
The performance takes place in the 220-seat sanctuary of the Unitarian Universalist Church of the South Hills in Mt. Lebanon, PA. Wheelchair accessible. Service dogs welcome. Doors open at 7:30 p.m. Light refreshments will be available for purchase before the show and during intermission.
Tickets are available in advance only through BrownPaperTickets for $15 Adults and $8 Students (K-12). Tickets at the door will be $20/$10 (credit card processing fees will apply).