NEXT SERVICE
The Blessings and Challenges of Growth
Rev. Jim Magaw
Sometimes we tire of "opportunities for growth" as they can be extremely challenging and exhausting. For us, both as individuals and as members of a larger community, growth can be difficult at times. But it is also rewarding and the only healthy way forward. This service will focus on both the blessings and the challenges of growth.
Welcoming Congregation status renewed!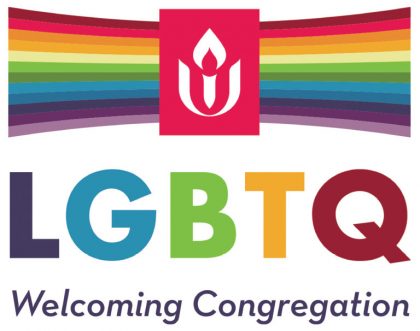 It's official! Sunnyhill has been renewed as a Welcoming Congregation by the UUA! Thank you to the renewal committee for their months of hard work and diligence—we would not be so honored now without your dedication.
Please take a moment to the read the letter from the UUA.
How proud we all can be that when our new home opens its doors in September, it is to welcome all from our community to a warm and loving family.
Who Are We?
We are UUs. Click to learn more.
Pledge Online for 2017
Initial or additional pledges can be made at anytime during the year.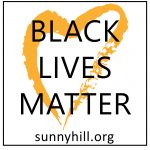 "Black Lives Matter (or #BlackLivesMatter) is a movement and a stance in response to this reality: the United States was built on a legacy of slavery, racism, and oppression that continues to take new, ever-changing forms. To say that "black lives matter" doesn't mean that black lives are more important than other lives, or that all lives don't matter. The systemic devaluing of Black lives calls us to bear witness, even as we acknowledge that oppression takes many intersecting forms." Unitarian Universalist Association
Minister's Notes
Monthly writings that also appear in the newsletter.
Stewardship Money Minutes
Once-a-month Sunday service presentations from the Stewardship chair.
Mt. Lebo Unity Rally
To read coverage by the Pittsburgh Post-Gazette, click here.
Print Claire's Poster!
Claire Pullen designed a poster for the Women's March, and those interested can download the poster for free. If you download and print the poster, please acknowledge Claire as the artist.
Sunnyhill Audio
Each week, an audio link to the Sunday service is posted to our Facebook page, UU Church of the South Hills (Sunnyhill). To receive an email with the weekly audio link, please email Mike Gravitt (mgravitt2@gmail.com).
Important Links
Sunnyhill Links
LGBTQ Links