NEXT SERVICE
Practice Resurrection
Rev. Jim Magaw
The cycle of the natural world is one of death and resurrection. Everywhere we turn we can see death and rebirth, especially during this time of year. How can we become practitioners of resurrection in our personal lives and in our world?
Buffalo Run
May 4. 7:30 p.m.
A quirky blend of acoustic-Appalachian-Americana. More information and tickets here.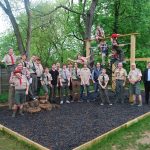 Simon Mortimer's Eagle Scout project gave us the Sunnyhill Playground. Click here for additional photos. Be sure to note the "now" and "then" photos of three Sunnyhill scouts--Elliot, Grayden, and Simon.

Sunnyhill Links
LGBTQ Links
Reflection
Rev. Jim's reflection on the Las Vegas shooting on Oct. 1, 2017, is available here.