NEXT SERVICE
Exposing and Dismantling Supremacy
Rev. Jim Magaw
UUA President Peter Morales recently resigned amid a controversy about UUA hiring practices with regard to race. If we are to have any hope of addressing and undoing racism and other systemic oppressions, we must start at home—in our personal attitudes and behaviors, in our families, in our congregations, and in our larger association. This work is challenging as it requires us to examine our own privilege and complicity in larger systems of racism and supremacy. Are we up to this task?
Who Are We?
We are UUs. Click to learn more.
Pledge Online for 2017
Initial or additional pledges can be made at anytime during the year.
Sunnyhill Audio
Each week, an audio link to the Sunday service is posted to our Facebook page, UU Church of the South Hills (Sunnyhill). To receive an email with the weekly audio link, please email Mike Gravitt (mgravitt2@gmail.com).
Designated Offering
On Sunday, April 16, we collected $783 for SHIM (South Hills Interfaith Movement). The combined RE classes collected a number of cloth grocery bags to give to the SHIM food pantry. Thank you for your generosity!
May 21. Today's Designated Offering will be Sunnyhill's way of saying thank you to the Bower Hill Community Church for their support and hospitality throughout this year of construction and displacement! The welcoming and generous spirit of Bower Hill meant that Sunnyhill programming such as Sacred Chanting and Second Saturday could continue. When Rev. Jim needed a space for a special service after the November election, Bower Hill had space for us. Bower Hill Community Church is a congregation of the Presbyterian Church (USA) and has been serving the South Hills area of Pittsburgh for over sixty years.
2016-17 Annual Report
Please click here for a printable PDF of the 2016-17 Annual Report.
Welcoming Congregation Renewal Update
We're almost there!
During the past eight months, members of Interweave have been working with the congregation and our minister Jim to implement the recommendations of the Welcoming Congregation Assessment Team towards achieving renewal status.  Most if not all of the recommendations have been implemented.
At the March Board meeting, the Board agreed that enough requirements have been satisfied and gave the go ahead to apply for Welcoming Congregation Renewal status. The congregation must also vote to go forward before the Welcoming Congregation Renewal application can be submitted to the UUA. This vote will take place at the annual meeting in late April.
When we get Welcoming Congregation Renewal status, we will be the first UU congregation in the Pittsburgh area to achieve this. This is something we can all be proud of!
Buy a plant, build a playground!
Please support Simon Mortimer's Eagle Scout project to build a playground at Sunnyhill by purchasing hydrangeas and hanging geraniums! Perfect Mother's Day gifts. Because we are in our temporary home at the Mt. Lebanon Rec Center, we can't host our annual Pancake Breakfast & Flower Sale (see us in 2018!), so Simon's flowers are a perfect alternative! Click here for details and how to order!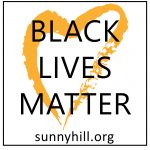 "Black Lives Matter (or #BlackLivesMatter) is a movement and a stance in response to this reality: the United States was built on a legacy of slavery, racism, and oppression that continues to take new, ever-changing forms. To say that "black lives matter" doesn't mean that black lives are more important than other lives, or that all lives don't matter. The systemic devaluing of Black lives calls us to bear witness, even as we acknowledge that oppression takes many intersecting forms." Unitarian Universalist Association
Minister's Notes
Monthly writings that also appear in the newsletter.
Sunnyhill Supports Mt. Lebo Unity Rally
Sunnyhillers supported Rep. Dan Miller, D-Mt. Lebanon, who organized a rally in response to incidents in the school district after the Nov. 11 presidential election. To read coverage by the Pittsburgh Post-Gazette, click here.
Print Claire's Poster!
Claire Pullen designed a poster for the Women's March, and those interested can download the poster for free. If you download and print the poster, please acknowledge Claire as the artist.
Important Links
Sunnyhill Links
LGBTQ Links