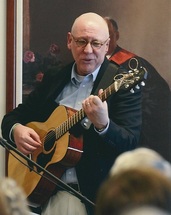 The Ministerial Search Committee (MSC) proudly presents our Ministerial Candidate, Rev. Jim Magaw. To learn about Rev. Jim, please click here.
The MSC has planned a packed Candidating Week for Rev. Jim. A complete schedule of events is available here. Please review the schedule for events that may pertain to you.
Rev. Jim will present both services on April 27 and one service at 10 a.m. on May 4. The MSC hopes everyone can attend the congregation-wide Picnic Potluck on Saturday, May 3, at noon, to welcome Rev. Jim and his family to Sunnyhill.
More photos.
The list of upcoming events has moved temporarily to a new page.