NEXT SERVICE
Soda Pop Salvation
Dr. Jeffrey Vipperman
"Salvation" can come in many forms, often in the small and surprising ways.  It is there for the taking through everyday acts of love and kindness.  A reflection on a trip to Maine provided the seeds to turn an incongruous religious upbringing into a people-centered view of salvation.
Jeff Vipperman took part in a year-long sermon writing class facilitated by Rev. Jim. Sermons by other members of the class will be presented in the weeks and months ahead.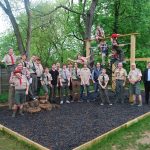 Simon Mortimer's Eagle Scout project gave us the Sunnyhill Playground. Click here for additional photos. Be sure to note the "now" and "then" photos of three Sunnyhill scouts--Elliot, Grayden, and Simon.

Sunnyhill Links
LGBTQ Links
Reflection
Rev. Jim's reflection on the Las Vegas shooting on Oct. 1, 2017, is available here.