NEXT SERVICE
A UU Takes the Bodhisattva Vow: Working to Wake Up the World (or Maybe Just Pittsburgh)
Stephanie Maietta Romero
Stephanie began exploring Buddhism and mediation in our church as part of her spiritual journey. In this service, she will explain how this path has led her to take vows to first become a Buddhist and most recently to be a bodhisattva. Stephanie will explain how this journey has also included quitting her job and founding the nonprofit Awaken Pittsburgh to teach meditation and mindfulness to others as part of helping them awaken. Our designated offering this week will benefit "Awaken Pittsburgh."
Who Are We?
We are UUs. Click to learn more.
Pledge Online for 2017
Initial or additional pledges can be made at anytime during the year.
Sunnyhill Audio
Each week, an audio link to the Sunday service is posted to our Facebook page, UU Church of the South Hills (Sunnyhill). To receive an email with the weekly audio link, please email Mike Gravitt (mgravitt2@gmail.com).
Awaken Pittsburgh
Designated Offering March 26
Awaken Pittsburgh is a secular organization that draws upon the wisdom of Buddhist principles to serve a broad public. Founded in 2015 by Stephanie Romero, an educator and Buddhist practitioner, Awaken's formation was largely precipitated by two events. The first "event" was learning from Archarya Adam Lobel (a teacher in the Shambhala Buddhist tradition) in 2014 that he and Sakyong Mipham Rinpoche (current lineage holder of the Shambhala tradition) had participated in a peace conference in Chicago that brought together people working to prevent youth/gang violence in the inner city. At the conference, the Sakyong taught mindfulness and meditative practices to teenage gang members to help prevent violence and extract them from lives of violence.
The news that people were using mindfulness with at-risk youth had a profound impact on Romero who, at the time, was developing a dissertation proposal in the School of Education at the University of Pittsburgh. It affirmed the importance of incorporating her own personal practice of mindfulness into her professional life as a teacher, a colleague, and an educator and caused her to revise her dissertation to focus on the topic of mindfulness in education.
Visit Awaken Pittsburgh to learn more. Stephanie will present the Sunday Service on March 26. The Designated Offering will support the work of Awaken Pittsburgh.
Friday Night Fever!
Dust Off your Disco Ball 'cause it's Saturday Friday Night Fever!
On Friday, March 31, at 6 p.m., Boogie Nights comes to St. Paul's Episcopal Church for Sunnyhill's Friday Night Fever Service Auction!  So dust off that white suit and get out your boogie shoes to get ready for the most fun you've had since singing Disco Duck. More information.
Welcoming Congregation Renewal Update
We're almost there!
During the past eight months, members of Interweave have been working with the congregation and our minister Jim to implement the recommendations of the Welcoming Congregation Assessment Team towards achieving renewal status.  Most if not all of the recommendations have been implemented.
At the March Board meeting, the Board agreed that enough requirements have been satisfied and gave the go ahead to apply for Welcoming Congregation Renewal status. The congregation must also vote to go forward before the Welcoming Congregation Renewal application can be submitted to the UUA. This vote will take place at the annual meeting in late April.
When we get Welcoming Congregation Renewal status, we will be the first UU congregation in the Pittsburgh area to achieve this. This is something we can all be proud of!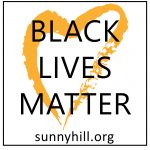 "Black Lives Matter (or #BlackLivesMatter) is a movement and a stance in response to this reality: the United States was built on a legacy of slavery, racism, and oppression that continues to take new, ever-changing forms. To say that "black lives matter" doesn't mean that black lives are more important than other lives, or that all lives don't matter. The systemic devaluing of Black lives calls us to bear witness, even as we acknowledge that oppression takes many intersecting forms." Unitarian Universalist Association
Sunnyhill Supports Mt. Lebo Unity Rally
Sunnyhillers supported Rep. Dan Miller, D-Mt. Lebanon, who organized a rally in response to incidents in the school district after the Nov. 11 presidential election. To read coverage by the Pittsburgh Post-Gazette, click here.
Print Claire's Poster!
Claire Pullen designed a poster for the Women's March, and those interested can download the poster for free. If you download and print the poster, please acknowledge Claire as the artist.
Important Links
Sunnyhill Links
LGBTQ Links