NEXT SERVICE
Trusting the Way Forward
Rev. Jim Magaw
In our current era, it is easy to lose our way amidst the sometimes overwhelming and painful chaos and confusion in our world. If we no longer have trust in our major institutions, what do we trust in and how does it help us move forward rather than staying stuck where we are?
Pittsburgh Chamber Players
March 11. 7:00 p.m.
Established in 1997, Pittsburgh Chamber Players is an acclaimed group of Pittsburgh Symphony Musicians. Hailed for daring, intelligent, and often interdisciplinary programming, the ensemble performs repertoire ranging from familiar masterpieces to neglected gems and newly commissioned American works. Ticket price includes wine and cheese reception following the concert. More information and tickets here.
Concert in the Round
March 30. 7:30 p.m.
A musical collaboration with four of Pittsburgh's favorite singer-songwriters: Heather Kropf, Christopher Mark Jones, Ben Shannon, and Brad Yoder. More information and tickets here.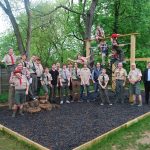 Simon Mortimer's Eagle Scout project gave us the Sunnyhill Playground. Click here for additional photos. Be sure to note the "now" and "then" photos of three Sunnyhill scouts--Elliot, Grayden, and Simon.

Sunnyhill Links
LGBTQ Links
Reflection
Rev. Jim's reflection on the Las Vegas shooting on Oct. 1, 2017, is available here.