NEXT SERVICE
One and Many: Connectedness
Rev. Jim Magaw
We live in a world with many divisions and differences based on class, ethnicity, race, nationality, religion, region, gender, and more. Our challenge as religious liberals is to resist minimizing these differences, as many of them are very real and need to be respected-while at the same time recognizing some essential commonalities.
Who Are We?
We are UUs. Click to learn more.
Pledge Online for 2017
Initial or additional pledges can be made at anytime during the year.
Sunnyhill Audio
Each week, an audio link to the Sunday service is posted to our Facebook page, UU Church of the South Hills (Sunnyhill). To receive an email with the weekly audio link, please email Mike Gravitt (mgravitt2@gmail.com).
Friday Night Fever!
Dust Off your Disco Ball 'cause it's Saturday Friday Night Fever!
On Friday, March 31, at 6 p.m., Boogie Nights comes to St. Paul's Episcopal Church for Sunnyhill's Friday Night Fever Service Auction!  So dust off that white suit and get out your boogie shoes to get ready for the most fun you've had since singing Disco Duck.
Start thinking now about what you can donate!  If you already know, you can upload now to the auction website  Parties and events are always the favorites! More information.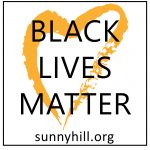 "Black Lives Matter (or #BlackLivesMatter) is a movement and a stance in response to this reality: the United States was built on a legacy of slavery, racism, and oppression that continues to take new, ever-changing forms. To say that "black lives matter" doesn't mean that black lives are more important than other lives, or that all lives don't matter. The systemic devaluing of Black lives calls us to bear witness, even as we acknowledge that oppression takes many intersecting forms." Unitarian Universalist Association
Sunnyhill Supports Mt. Lebo Unity Rally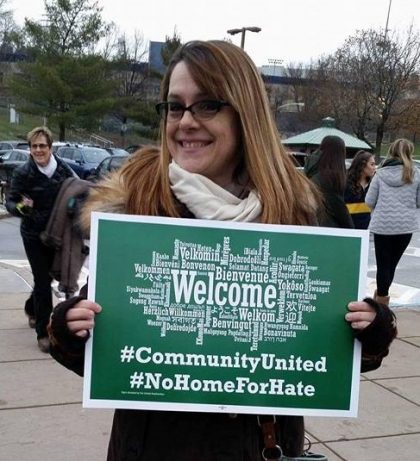 Sunnyhillers braved the cold to support Rep. Dan Miller, D-Mt. Lebanon, who organized a rally in response to incidents in the school district after the Nov. 11 presidential election. To read coverage of the rally in the Pittsburgh Post-Gazette, please click here.
Important Links
Sunnyhill Links
LGBTQ Links