NEXT SERVICE
A Tale of Two Freds
Rev. Jim Magaw
What are the lessons we can learn from the lives and legacies of Fred Rogers (of Mr. Rogers Neighborhood) and Fred Phelps (of the Westboro Baptist Church)? One was an exemplar of humility and compassion; the other, an infamous purveyor of callous hatred and thoughtless self-aggrandizement. Why does religion seem to create the very best and very worst people?
Concert in the Round
March 30. 7:30 p.m.
A musical collaboration with four of Pittsburgh's favorite singer-songwriters: Heather Kropf, Christopher Mark Jones, Ben Shannon, and Brad Yoder. More information and tickets here.
Buffalo Run
May 4. 7:30 p.m.
A quirky blend of acoustic-Appalachian-Americana. More information and tickets here.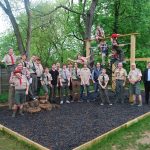 Simon Mortimer's Eagle Scout project gave us the Sunnyhill Playground. Click here for additional photos. Be sure to note the "now" and "then" photos of three Sunnyhill scouts--Elliot, Grayden, and Simon.

Sunnyhill Links
LGBTQ Links
Reflection
Rev. Jim's reflection on the Las Vegas shooting on Oct. 1, 2017, is available here.