NEXT SERVICE
Blues Theology
Rev. Jim Magaw
Some of the best music you will ever hear has emerged from a place of persecution and oppression, and, rather than dwelling in hopelessness and despair, has proclaimed through its very existence and through its great beauty that there is something more.  This service will explore theology as a genre of the blues. (Our designated offering this Sunday will benefit Family Promise, an organization that helps homeless and low-income families achieve sustainable independence.)
Welcoming Congregation status renewed!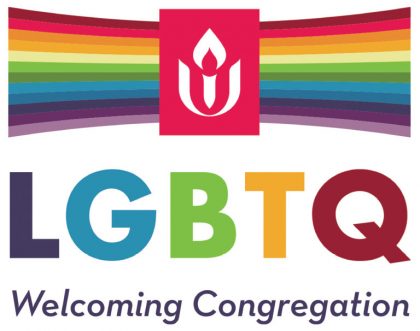 It's official! Sunnyhill has been renewed as a Welcoming Congregation by the UUA! Thank you to the renewal committee for their months of hard work and diligence—we would not be so honored now without your dedication.
Please take a moment to the read the letter from the UUA.
How proud we all can be that when our new home opens its doors in September, it is to welcome all from our community to a warm and loving family.
Who Are We?
We are UUs. Click to learn more.
Pledge Online for 2017
Initial or additional pledges can be made at anytime during the year.
Designated Offering
June 4. Today's Designated Offering will be for Family Promise of Southwestern Pennsylvania has been caring for homeless children and their families for over 20 years. Families are served 24 hours a day, 365 days of the year. Families receive evening meals and overnight accommodations from local churches and spend daytime hours in one of our Day Centers. Our Day Centers in Pittsburgh and Washington serve as the base of operations for families as they work to secure housing, employment and other services to support their independence. Since its inception, FPSWPA has assisted over 400 families - over 1,300 individuals, including 800 children.
Help reach the final $50K!
Provided by CoolFundraisingIdeas.net
$45,050 and going up!
Important additions during construction (including but not limited to ramps, an automatic door, and other accessibility features; installation of a new drive--not just patches to the old) leave us about $50,000 short for final features, including new chairs for the sanctuary. We do not want to exercise our option to incur additional debt to cover this cost; instead, we are hoping Sunnyhillers will pull together--and pledge together--for this final $50K!
We have achieved 90% of our goal!
Pledges can be paid immediately or anytime through the end of August. Expenditures will have to be made throughout the summer, and it is helpful to receive the pledges as soon as possible.
To make a pledge, please send an email with your name and contact information, the amount, and when you will make payment, to Barbara McCracken, Assistant Treasurer, at mccrackenbarbara@comcast.net. If you have any questions about this final drive to $50K, please contact Denny McCracken (dennymccracken@gmail.com) or Mike Hennessy (michael@mjhennessy.com).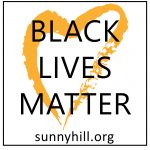 "Black Lives Matter (or #BlackLivesMatter) is a movement and a stance in response to this reality: the United States was built on a legacy of slavery, racism, and oppression that continues to take new, ever-changing forms. To say that "black lives matter" doesn't mean that black lives are more important than other lives, or that all lives don't matter. The systemic devaluing of Black lives calls us to bear witness, even as we acknowledge that oppression takes many intersecting forms." Unitarian Universalist Association
Minister's Notes
Monthly writings that also appear in the newsletter.
Mt. Lebo Unity Rally
Sunnyhillers supported Rep. Dan Miller, D-Mt. Lebanon, who organized a rally in response to incidents in the school district after the Nov. 11 presidential election. To read coverage by the Pittsburgh Post-Gazette, click here.
Print Claire's Poster!
Claire Pullen designed a poster for the Women's March, and those interested can download the poster for free. If you download and print the poster, please acknowledge Claire as the artist.
Sunnyhill Audio
Each week, an audio link to the Sunday service is posted to our Facebook page, UU Church of the South Hills (Sunnyhill). To receive an email with the weekly audio link, please email Mike Gravitt (mgravitt2@gmail.com).
Important Links
Sunnyhill Links
LGBTQ Links